Nairobi County Governor Officially Launches The Nairobi School Fiber Connectivity Pilot Project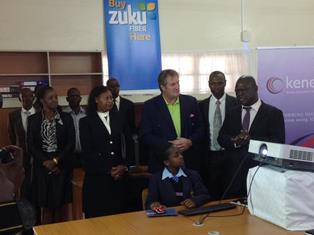 The Nairobi County governor officially launched the Schools Fiber Connectivity and FREE Internet Project on March 11, 2014 at Moi Girls High School, Nairobi in a big ceremony with up to eight secondary schools in Nairobi represented!
The project is a partnership between Wananchi which will provide fiber to 245 schools in Nairobi, KENET which will aggregate traffic from the schools and provide international connectivity and an education portal for schools and the Nairobi County where the schools are located. Wananchi will pay for all the costs of the project as part of their CSR and KENET will provide all the backend engineering support for connecting the schools including enforcing acceptable use policies.