KENET'S ALLIANCE GIRLS HIGH SCHOOL CONNECTIVITY INITIATIVE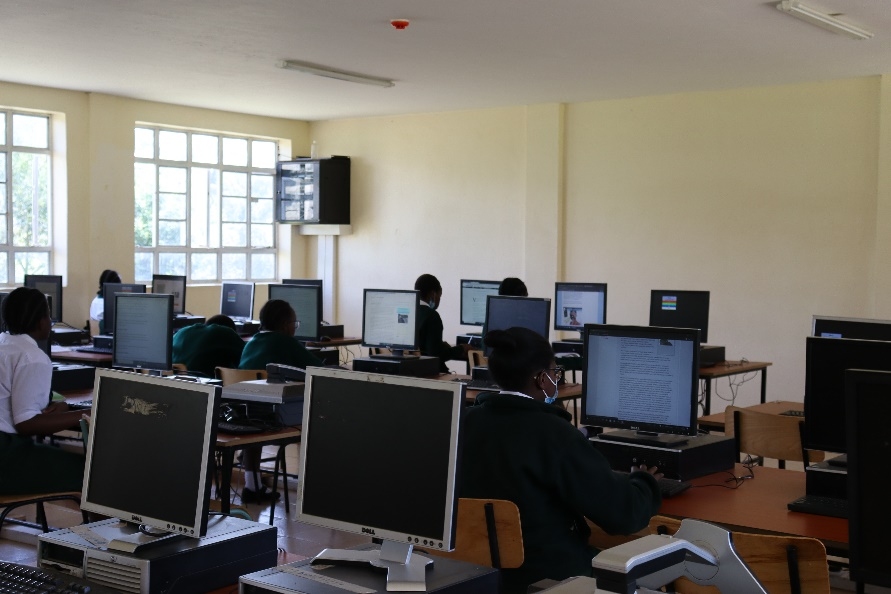 Alliance Girls High School Students conducting academic research in the Computer Lab.
In January 2016, KENET partnered with Bandwidth and Cloud Services (BCS) group to complete the installation of internet links to Alliance High School and Alliance Girls High School through the KENET Schools Connectivity Initiative (SCI). This is part of KENET's goal of connecting secondary schools in the country to the internet, as well as a benefit for the Alliance community to access broadband.
Kenya Education Network (KENET) launched the Schools Connectivity Initiative to improve the education quality by transforming teaching, learning and administration of schools in Kenya by leveraging the use of ICT. The SCI program has supported and empowered teachers by providing them with high-speed access to open educational content, directing them to supplemental material and open educational resources to support their teaching. The students also can now use the internet as a replacement for textbooks and reference books as it contains an endless source of knowledge and to research further readings on topics they cover in class.
In 2019, as a result of the launch of SCI, the Academy of Science of South Africa (ASSAF) invited KENET-connected schools, among them Alliance Girls High School (AGHS), to participate in a climate change discussion on the theme, "Facing the harsh realities of climate change". Seven (7) students from AGHS participated in a discussion held during South Africa's National Science Week event between 29th July and 2nd August.
Mr. Wanyonyi Waswa, head of Computer Studies at the School, shared how important such discussions were and emphasized the role of youth in Climate Change in Africa. "We as the Alliance Girls got the opportunity to participate and give our views on Climate Change in Africa and ways the youth can help curb it." noted Mr. Waswa.
The discussions were conducted via a webinar platform and KENET provisioned its video and web conferencing platform to the three schools. Using Big Blue Button (BBB), an open-source web conferencing system that provides real-time sharing of audio, video, slides, chat and screen, the Kenyan students were able to conduct the discussions with their counterparts seamlessly. The Big Blue Button is free to all connected members.
"There were no costs involved, and all that was required is for the learners to have a mic, speakers, connect to BBB (open port for this) and be available to give 30 min of their time, to engage with other learners on challenges and solutions regarding climate change," said Ina Smith, Project Manager African Open Science Platform.
The AGHS students shared how insightful the discussions were and how they were going to implement what they had learned as youth. "We got a lot out of the discussions and realized that change must start with us. Be it by planting one tree when you come in Form One and tending to it for the four years which the student spends in school, starting a hydroponics project in schools all over Kenya or sharing the idea of plastic roads on social media - we as the youth have a big role to play because, as we know, there is no Planet B," said one student from Alliance Girls.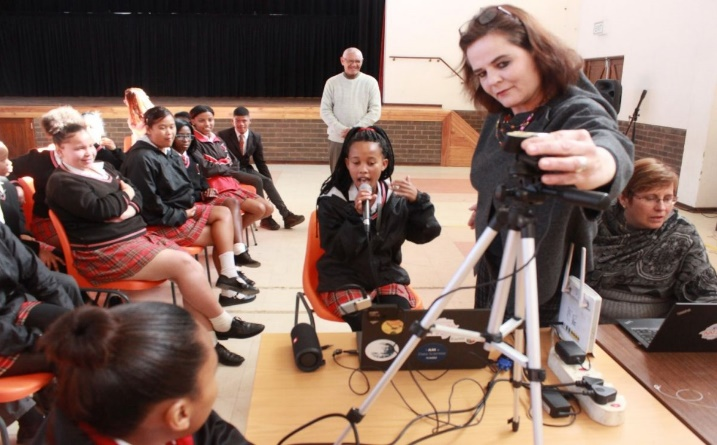 Learners from Jeffreys Bay discussing climate change with learners Alliance Girls High School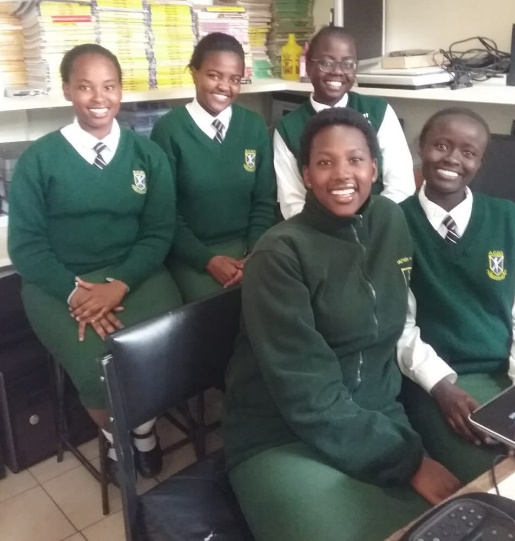 Some of the learners from AGH setting up before the discussions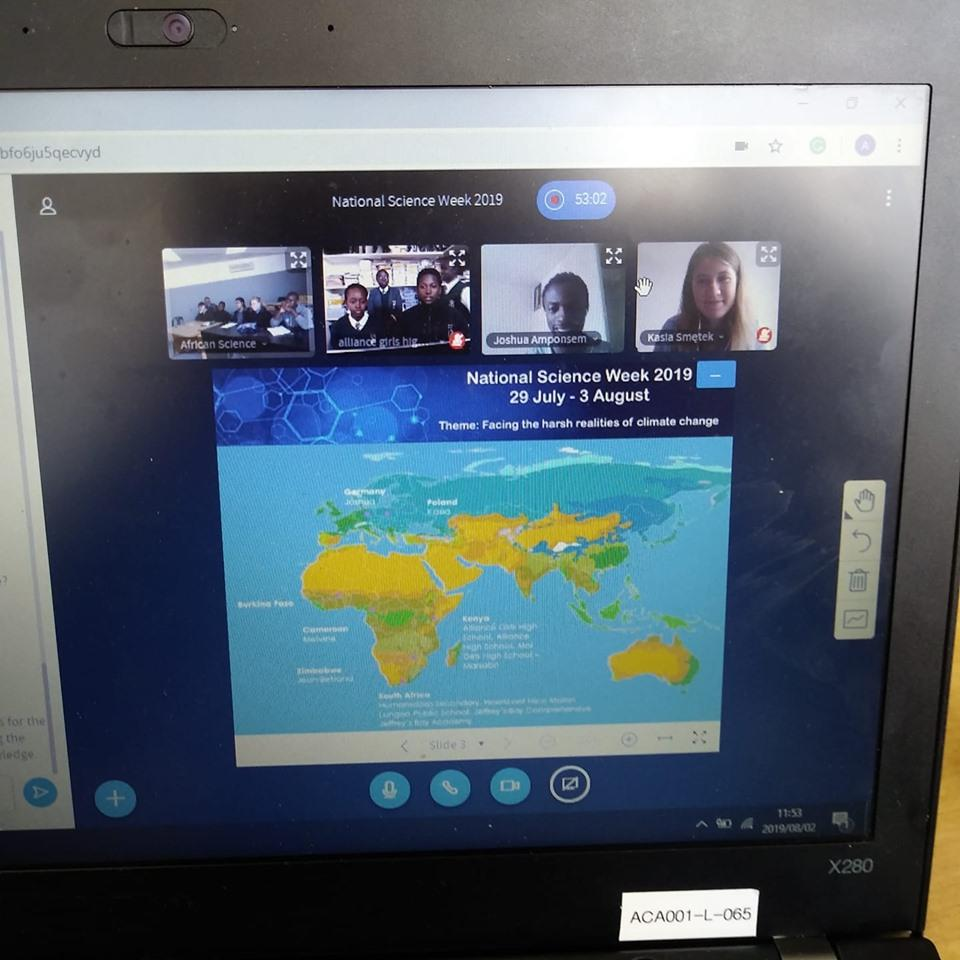 Students from Kenya, Germany, Poland and SA exchanging ideas on how to combat climate change
Aside from teaching and learning, The School Connectivity Project has greatly improved the administration at Alliance Girls High School. The Principal, Mrs. Virginia Gitonga, has implemented the use of closed-circuit television cameras (CCTV) all around the school. This enables her to monitor and access remote footage of school activities by students, faculty and staff from the different classes and school areas on the display monitor from the comfort of her office.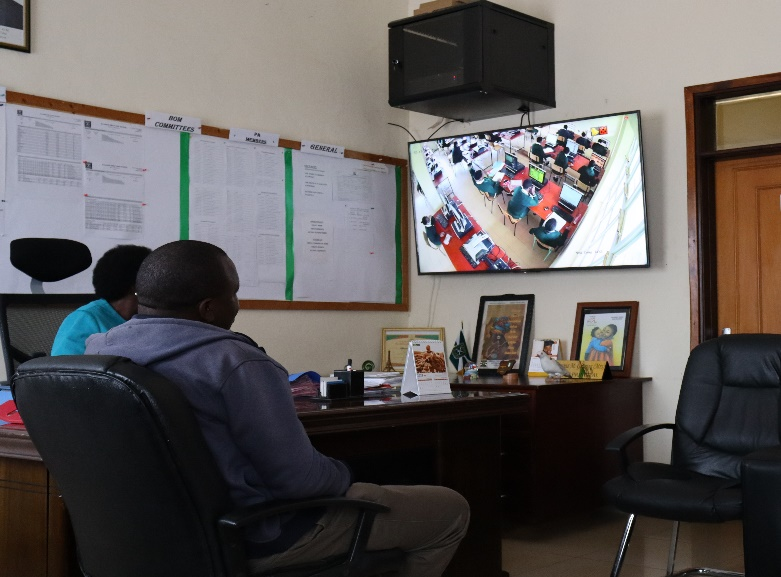 AGHS Principal, Mrs. Virginia Gitonga, monitoring footage of students in the computer lab from her office
The SCI project has also greatly contributed to education improvement and access. Through the virtual lesson plan launched by Teachers Service Commission (TSC), Alliance Girls High School teachers virtually share lessons in Sciences, Mathematics and English with students in satellite schools drawn from Kilifi, Kisii, Makueni, Bomet, Taita Taveta and Isiolo through livestreaming.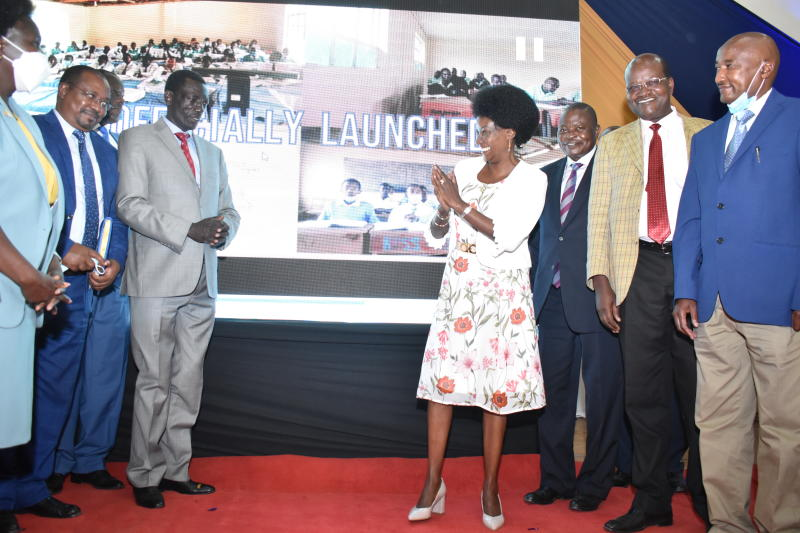 Launch of the virtual lesson plan in AGHS
The school livestreams and virtually shares their interactive and collaborative classes through video and sound enabling learners to have a whole learning experience. Speaking on the need to increase internet connectivity, Mrs. Virginia Gitonga, Principal Alliance Girls High School emphasized the importance of allocating funds for internet connectivity in the school. " It is essential to prioritize the need for internet connectivity in school due to the immense benefits it has for both the teachers and students in learning and teaching. This requires effective budgeting to ensure these ICT needs are catered to " said Mrs. Virginia Gitonga.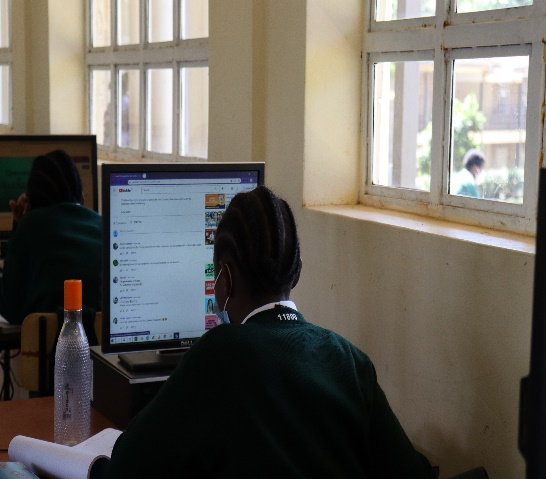 A student watching YouTube Videos to learn Chinese
                                                 Summary of costs paid by KENET and donated by BCS team       
KENET paid a sum total of Ksh 3, 269,660.20 worth in fiber and fiber lighting installation charges, installation of a solar back up system at Alliance girls and a radio link installation and set up at Presbyterian University of East Africa. Bandwidth and Cloud Services group  donated radios, routers, switches, servers and access points worth Kshs 500,000.